why massage?
MAY BANK HOLIDAYS Opening Times...
For both the bank holiday weekends occurring in May, I shall be open as follows:
EARLY MAY BANK HOLIDAY...
OPEN as usual until the end of Thursday 3rd May...
OPEN Friday 4th May, 10am to 3pm
CLOSED Saturday 5th & Sunday 6th May
OPEN Bank Holiday Monday 7th May, 2pm to 10pm
then OPEN as usual again from Tuesday 8th May...
SPRING BANK HOLIDAY...
OPEN as usual until the end of Friday 25th May...
CLOSED Saturday 26th & Sunday 27th May
OPEN Bank Holiday Monday 28th May, 2pm to 10pm
then OPEN as usual again from Tuesday 29th May...
I wish all my clients enjoyable bank holidays, hopefully in some rare British sunshine! :-) Andy xx

SPRING FORTH WITH A POWERFUL HEALING BOOSTER...
Now is the time that we come out of winter hibernation and start to get energised by the power of the sun and nature. To give yourself a well needed, positive boost and clear out any residual negativity, why not try some Reiki Healing to help keep you feeling lighter, more grounded and energised for the Spring/Summer ahead...
Reiki Healing is the channelling of Universal energy through the therapist to the client, often felt as a warm, nurturing flow. This is then used by your body, in whichever way it seeks fit to help with physical, mental and emotional issues that need healing. Read more details about Reiki Healing...
Reiki can sound a bit way out for most people and some people may sense they need some help healing but are not sure. All I can say is that it has been very effective with helping me through troubles in life and a lot of my clients have found it a very deeply relaxing, nurturing and moving experience, helping to ground them and deal with mental/emotional issues, stress, etc, in their lives.
Why not try Reiki Healing and see if it can help transform your life?
* Book a 60 minute Reiki Healing session and pay only £20, saving you 33%!
** Book ANY 60/90 min Massage + ANY Reiki Healing treatment and get £15 OFF the treatment combination!
(Prices starting at £50 for 2 hours of relaxation and re-energising bliss)
*** Book a course of 4 Reiki Healing Treatments and save 33%!
4x 60min Reiki = £80, 4 x 90min Reiki = £120
Offer ends 30th April, 2018.
To take advantage of this offer, please contact Andy today! (Reiki level II attuned)

GET A MASSAGE COMPLETELY FREE! (Even better value than usual...)
Get yourself re-balanced in life and back to your former self by booking a course of 3 treatments and get another 1 completely free!
That's 4 massages for the price of 3, saving you 25% overall :-)
Offer ends 30th April, 2018.
You do not have to book all your massages before this date. Just as long as you have paid for the 3 treatments, you can have your 4 treatments anytime within 4 months of the date that you book the first of the treatments!
For example, if you book your 1st treatment on 15/4/18 then you will have until 15/8/18 to book the remaining 3 treatments.
To take advantage of this offer, please contact Andy today!

THE PERFECT BIRTHDAY GIFT for that special person!
Wondering what to buy that special person in your life for their Birthday? Well, why not take the stress out of your life and theirs, by giving them an exclusive Equilibrium Gift Voucher?
Have a look at my list of massage and holistic treatments and request the gift voucher to any amount. Then contact Andy, with the name of the person you want to gift and how you would like to pay (Paypal, Internet Bank Transfer, Cash). I will then sort the rest for you, your present buying stress relieved and the special person in your life can look forward to a blissful, relaxing, pampering gift!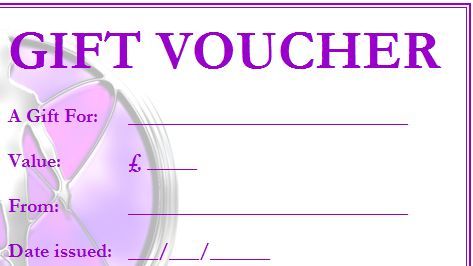 Show your love with a healing surprise! :-)

NEVER CARRY CASH? Pay more easily by Internet Bank Transfer!
Some of my clients never carry that much cash and are sometimes in a rush from work, etc, to get to their appointment on time and can find themselves stressed with no way of paying.
An easy solution to this situation is to pay for your treatment via Internet Bank Transfer. All you need initially are my Bank Sort Code and Account Number. Once you have used these to set me up as a Payee on your Internet Banking system, you can simply select my name from your list online to make the payment simply and easily before attending for your appointment.
Please make sure you text me to inform that you are paying via this method before any treatment, so I can ensure that the payment has been made.
PLEASE CONTACT ME to ask for my Bank Sort Code and Account Number if you wish to use this method of payment.

EQUILIBRIUM Massage Therapies - Now on SOCIAL MEDIA...
You can now find me on Facebook and Google+ with exclusive treatment offers, therapeutic tips, aromatherapy cocktails and much more!
LIKE me on Facebook at the following page: http://www.facebook.com/equilibrium.massage.manchester
FOLLOW me on Google+ at the following page:
https://plus.google.com/+Equilibrium-manchesterCoUk

Escape Stress, Enter Tranquility & Keep Toasty...
We all need some time nowadays to escape from the growing challenges and stresses that come into our lives. Time for ourselves, letting our mind slow down, and a calm place to allow us to enter a state of tranquility.
Through talking to you, finding out where you are at, I will then make your massage treatment personal to your needs. To further your comfort and help deepen your relaxation, I now have a lovely new electric warmer blanket installed on the massage table....
Why not give yourself some time out, that you deserve? Contact Andy today...
I am fully VTCT qualified and provide a range of massages, from gentle aromatherapy to deep tissue massage, or a fusion of different styles to suit you. For reviews of my treatments by my clients, please see my Google page.

NEW CALMING THERAPY ROOM NOW OPEN... we are still at the same address but now you have your consultation and treatments in my much more luxurious therapy room. Click the picture below or this link for more pictures of my new treatment room.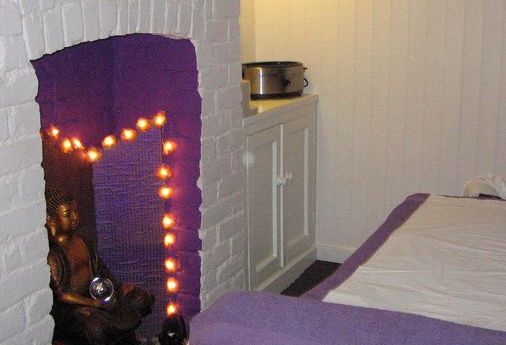 Keep the balance in your life with Equilibrium....
Massage is becoming an increasingly popular form of holistic and pro-active therapy, enjoyed by millions of people every day. It effectively reduces stress levels, stimulates the body's self-healing processes and helps replenish our vital energy, restoring equilibrium and balance. Enjoying a massage regularly (such as weekly or monthly) may help repair the body, relax and refresh the mind and enhance spirits, so that we are more able to face the challenges of life with a renewed sense of confidence and ease. If the pressures of life are not released through natural therapies, such as massage, then they can gradually have a more detrimental affect on the person as a whole.
Depending upon the choice and combination of massage techniques, the body can either be relaxed or stimulated, making it a useful and enjoyable form of therapy. Massage may alleviate stresses and strains on both the body and mind at once and the effects can often be felt quite instantly after a massage session.
People also use massage as an important complimentary therapy in helping to relieve various ailments and unwanted behaviours in their lives. Massage may help with many, including the following:
Anxiety and Depression: helps relieve the various symptoms of anxiety, depression and alleviate the psychological strain caused.

Insomnia and bad sleeping patterns: calms the racing mind down and makes the body feel naturally tired and ready for sleep.

Lack of concentration and short term memory: helps to calm the mind and senses, enabling the mind to operate in a more focused way.

Cutting down on Alcohol: as a compliment to cutting down alcohol consumption and counseling/support, massage may clear toxins from the body, aid restful sleep and alleviate depression.

Blood Pressure: can help to lower high blood pressure.

Painful areas that cannot be moved: may relieve strain on muscles and joints in the body and speed up their repair. Causes can be bad posture, awkward movement or minor accidents. Massage may also help prevent Repetitive Stress Injury.
Further information about massage and its benefits (physical and psychological)
Page last updated: 24th April, 2018